Installing, enabling and switching keyboards in macOS 10.9-10.12
To be able to write easily in Sámi, you should use a Sámi keyboard. Below you'll find instructions on how to download and install keyboards, enable them, and how to switch easily among the enabled keyboards.
Installation
Go to the Divvun keyboard download page, and click on the download link for the keyboard installer:

Click on the Show downloads button, and then click on the Show in Finder button:

Double click the installer package:

The installer will start:

Some installers will contain information about the keyboard(s):

You are ready to install:

Installation requires administrator privileges:

Installation is done:

After installation you should restart the computer.
Enabling
After installation you still need to enable the new keyboard(s) to be able to use it/them. Do as follows:
Open System Preferences… via the Apple menu:

Or via the Dock:

Click Keyboard or type a relevant search term in the search field:

Click on the Input Sources tab and click on the plus sign in the lower left corner:


Ensure that the Show Input menu in menu bar check box is checked.

Select the Sámi keyboard you want, and click Add:
Switching keyboards
Select the Sámi keyboard in the keyboard menu to the right in the menu list when writing Sámi: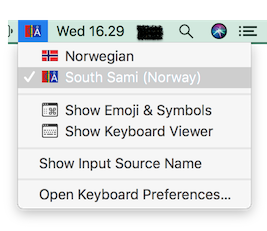 To switch quickly between keyboard layouts you can use the keyboard shortcut Ctrl-space (⌃-␣ ).